Physiological Data Selection
Choose What Physiological Data to Collect
Choose what type of physiological data you want to collect.
After you select a device, you will see the option to EDIT DEVICE. Select this option to choose what physiological data you want to collect.
Select all data metrics you would like to collect. In Advanced Settings on the right, you can modify the sampling rate for certain metrics.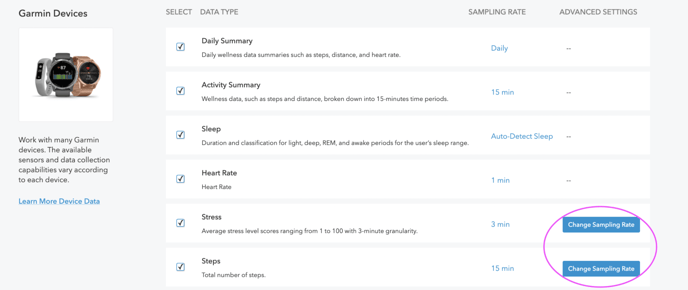 Other metrics are set with default sampling rates by Garmin, and cannot be altered.


Certain metrics, such as Sp02, BBI and Zero-Crossings can impact both device battery life and the time it will take participants to sync data to the PhysioQ Connect app. We therefore only recommend selecting this type of data if it is required for your project. For more advice on data collection for your project, please contact support@labfront.com and we will be happy to help.

Once you have set up your Tasks and chosen what type of physiological data to collect select SAVE.