This article will cover everything you need to know when getting started on downloading your data.
This guide assumes that you already have a research project up and running in Labfront with active participants contributing data by completing tasks, surveys, or providing physiological data from their wearable. If you haven't yet started a project in Labfront, then please sign up for a Free Labfront account and create your first project.
How to download your data
To download data, sign in to Labfront and choose an In Progress project from Your Projects. Choose DOWNLOAD DATA from the Dashboard. This will generate a single zip file to download which contains all of the data available for this project including tasks, surveys, and physiological data from participants' wearables from the start of your study.


While it will be available in the updated release version, there is no way to filter the data collection process by time period in this current Labfront version. Each time you click the "data download" button, the sync time will increase slightly (a consequence of the quantity of data downloaded increasing).

If the DOWNLOAD DATA option is not available (grayed out), then your project does not yet have any data available for download. Data is only available for In Progress projects and with invited Participants which have signed in through the PhysioQ Connect app and are contributing data by completing tasks, questionnaires, or providing physiological data from their wearable.
To check that participants have successfully signed in to your project, please check the PARTICIPANTS section on the Dashboard and make sure that you have at least 1 participant signed in. For each participant, you can also check that the status of INVITE CODE is Used and the STATUS is Joined.

If the Dashboard shows that at least 1 participant has completed the sign-in but you still cannot choose DOWNLOAD DATA, please check the status indicators in the Dashboard- Overview to make sure that at least 1 participant has completed at least 1 of the following:
Finished and submitted a Task
Finished and submitted a Questionnaire
Contributed physiological data by:

Pairing their wearable device
Wearing the wearable correctly for at least 1 hour
Opening the Garmin Connect and PhysioQ Connect apps to sync their physiological data successfully.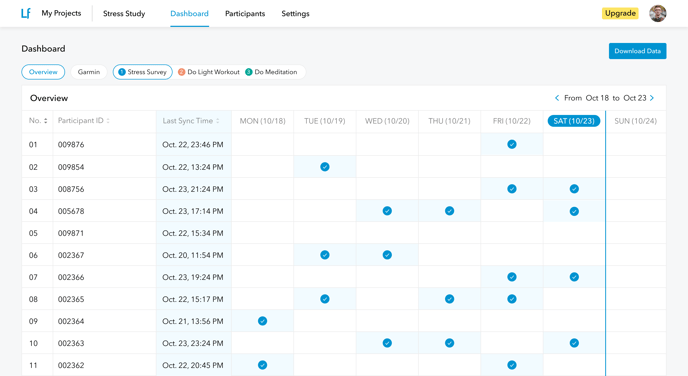 Last updated: January 17, 2022.