Once your app is published, you can add participants to your project and start capturing data.
We'll cover:
How to add participants to your project
Invite codes (including how to regenerate them)
Participant management FAQs
Connecting Participants to Project
1. To add Participants to your project, go to the Participants tab in your workspace and click the Add Participant button.

2. Enter a Participant ID, using a unique and anonymous identifier. You'll also have the option to add Notes. Notes could include phone type (Android / iOS), or a remark if the participant needs extra assistance.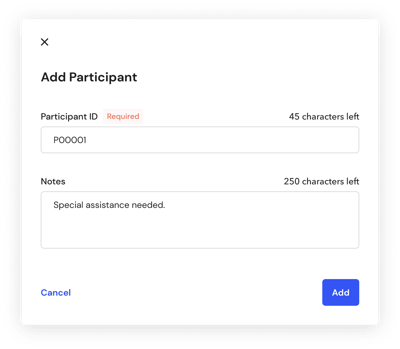 Please do not use personally identifiable information to identify each of your participants. This should be an identifier that only you as a researcher can use to uniquely identify each participant.
3. A unique 6-character
Invite Code
will automatically be generated for each participant to access the app you created. Distribute this invite code to the participant via email, text message, etc. Each participant must enter the code into the Labfront Companion app to connect them to your project. Once they do so, their Status will update from Not Yet Joined to Joined.

If a participant signs out of the application you can generate new codes by selecting Regenerate.
You can keep track of how many participants you're able to add at the top of your dashboard. Free Accounts have a 5-participant limit. To invite more than 5 participants to a project you'll need a Basic or Advanced Account. Contact support@labfront.com and we'll be happy to help.
4. Ask participants to follow the steps below to join your project:

The participant's experience of setting up the device will vary according to your study protocol. Learn more about Onboarding Participants➝
---
Participant Management FAQs
How often do participants need to open the Labfront Companion app?
We recommend opening the Labfront Companion app at least once per day to sync participant data.
Can I monitor participants to see if participants are collecting data and completing tasks?
Yes, the Adherence tab of the Dashboard enables you to see if participants are collecting data and have completed tasks.
How do I communicate with participants?
We recommend using Labfront's
notifications
feature to communicate with participants.
My participant's invite code isn't working. What should I do?
You can click
Regenerate
on the
Participants
tab of the Dashboard.
View this image
to see where to find it.