The Dashboard shows important information regarding the participants and data collection. It's a great tool to ensure adherence and make timely interventions.
The Dashboard provides a day-by-day view of which tasks have been completed by participants and what data has been collected. It's an opportunity for researchers to view at a glance if the project is progressing smoothly. You can also download data directly from this Dashboard.

The image below is the Dashboard Overview

When you hover over each box, you will get the time (timezone according to researcher location) a participant completed a task, as well as the total hours that participant collected physiological data.
Below is the Dashboard's physiological data view ('Garmin' view)
Here, you can hover over a day and see exactly which data is being collected from your participant's device to ensure they have set up both Garmin Connect and PhysioQ Connect pairing correctly.
Below is the Dashboard's survey data view (in this case, the 'Stress survey' task view)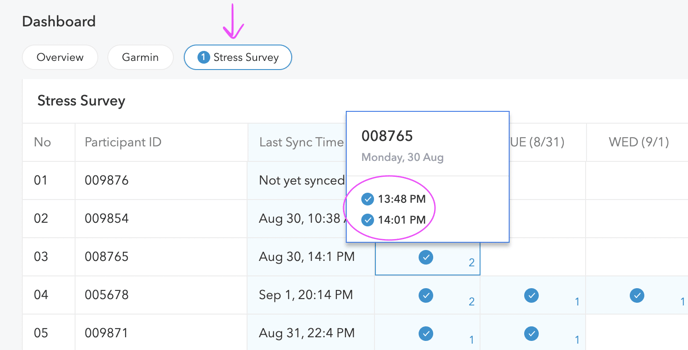 When you hover over the box, you will see the time the survey was completed, as well as how many surveys were completed that day.
****REMEMBER: It is important to have your participants open (to sync) both the Garmin and PhysioQ apps daily and wait for the spinning sync wheel to be complete. They can still use their phones when the app is syncing, they just cannot close the app until the sync is complete.*****