How do you complete a task in the Labfront app? We'll show you in this article.
Throughout the project, participants will complete tasks and questionnaires on the Labfront Companion app. Task completion can be monitored by researchers via the
Adherence Dashboard
.
How to Complete a Task
Open the
Labfront Companion app
. Tasks can be found on the home screen (Tasks screen) of your project. By default, it will be the first thing you see when you open the app.
The name of each task and its schedule (how often it should be completed) will be displayed. Click on the task to view the instructions.

Completing Timed Tasks
Press Start Timer
The timer will continue to run in the background, so your app doesn't need to be kept in the foreground while you complete the task.
Click End Timer & Mark as Complete when you have finished the timed task.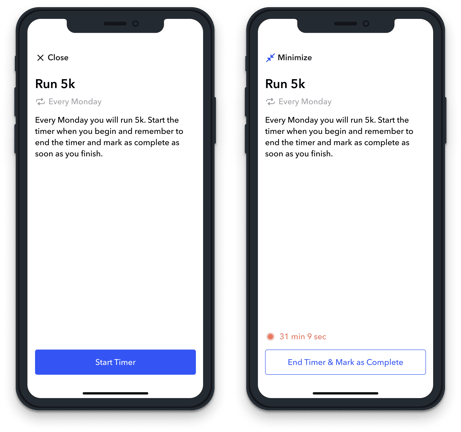 Completing Questionnaires
Click Start, read the questionnaire instructions, and click Continue when you're ready to begin.
Answer each question in the questionnaire and click OK. You will have the option to Skip a question that's not required.
You can track your progress with the progress bar at the top of the screen.
If you'd like to review and edit your answers, you can navigate the questionnaire by clicking the

or

buttons.
Need to start over? Click Discard to start over again from scratch.
When you've answered each question as accurately as you can, click Submit to complete the task. Questionnaire responses cannot be edited after submission.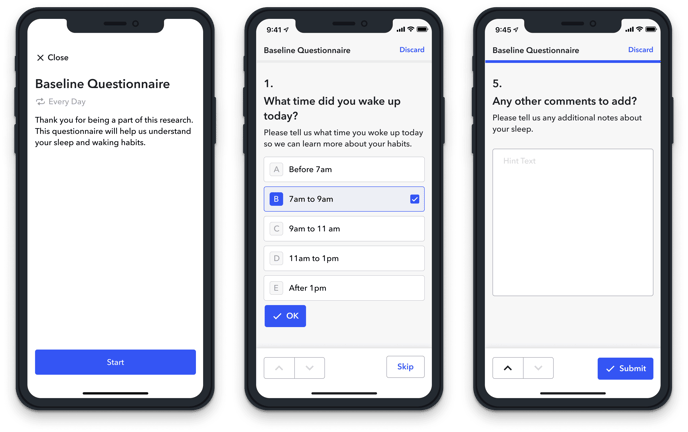 Completing All Other Tasks
Read the instructions and click Mark as Complete when you've finished the task. You will see a timestamp on the task showing when it was last successfully completed.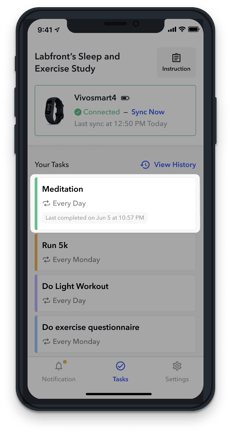 💡 Pro Tip
You can click Task History to view and keep track of everything you have completed so far in the study.
---
FAQs
Can I edit a questionnaire that I've already submitted?
Unfortunately not. While you can review your answers and make edits while you're completing the questionnaire, you can't make changes after the questionnaire has been submitted.
Do I need to keep the app open if I'm completing a timed task?
No! The timer will continue to run in the background so don't worry about keeping the app in the foreground.
How will I know if I completed a task?
You will see a timestamp of when the task was last successfully completed on the main Tasks page. You can also click Task History to view all of your previously completed tasks.