Create questionnaires for your participants to complete during the project.
Questionnaire Tasks
A questionnaire task is useful if you need your participants to complete one or more questionnaires during the project. For example, at the beginning of your project, you may want a simple questionnaire to collect information. Another example would be a mood questionnaire or sleep diary that you'd like participants to complete each day.
Add a Questionnaire Task
In the Participant Tasks section of the App Builder, select
Questionnaire
Enter:
Name - Choose an easy-to-understand name for this Questionnaire task
Description - Provide a brief description of the questionnaire task letting participants know what they need to do
Schedule - Should this questionnaire be completed one time only or is it repeated?

Enter when the participant should complete the questionnaire (For example: Once every day, On the first day of the study, or No Specific Date)
Click + Create New Questionnaire.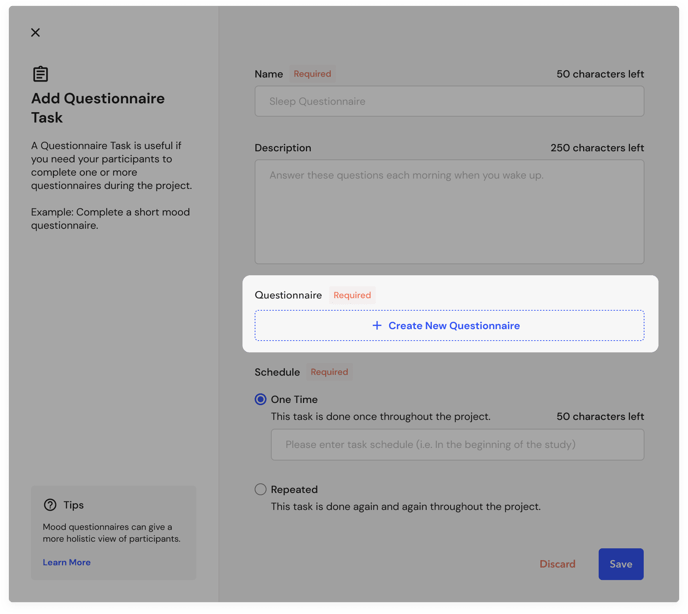 Upon entering the questionnaire builder, you'll be prompted to add a Section Title and Description
(These are required and will show up as the name and description of the questionnaire when the participant clicks on the task in their app.)

Add a Question
Select + New Question
Choose from multiple-choice, multiple-selection, and open questions.
Click Save at the top right when finished typing your questions.
Save Questionnaire Task
After saving your questionnaire, you will be taken back to the Add a Questionnaire Task page. You should now see your created questionnaire as part of the task. Once you have entered the required information, click Save.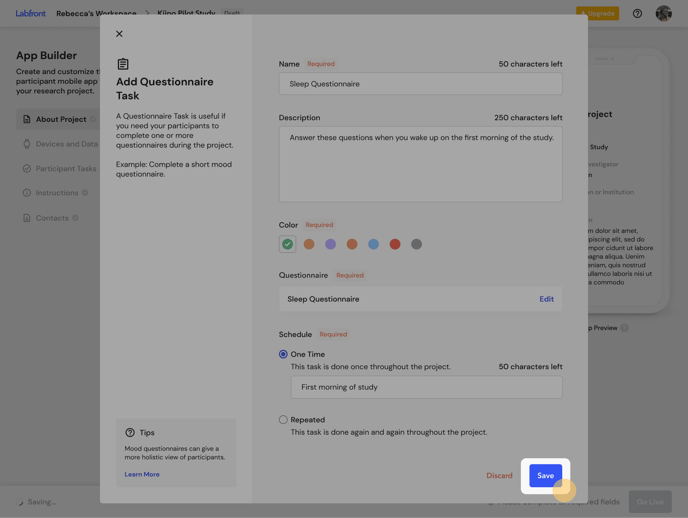 ---
FAQs
Can I have more than one Labfront questionnaire each day?
Yes, there is no limit to the number of questionnaires that may be created for each day of your study.
Can I reuse questionnaires I've created from previous studies?
Not yet. But we will be adding this feature shortly so that all of your questionnaires can be saved and available for reuse.
What kind of questions can Labfront's questionnaires support?
Labfront can support text input, multiple choice, and multiple selection questions.
Can I edit a questionnaire after my project is published?
Questionnaires
cannot
currently be edited because doing so would make your data really difficult to keep track of (imagine multiple versions of the same questionnaire with only small changes). If you made a mistake on your questionnaire or want to add or remove a question, we suggest
hiding the questionnaire task
and
adding a new task
with the updated questionnaire.