Create a new project in your workspace and start building your customized app to capture physiological data from participants.
1. Sign in to your workspace
Once you've successfully created a Labfront account, sign in to be taken to your Workspace. A workspace is where you can add collaborators and create projects.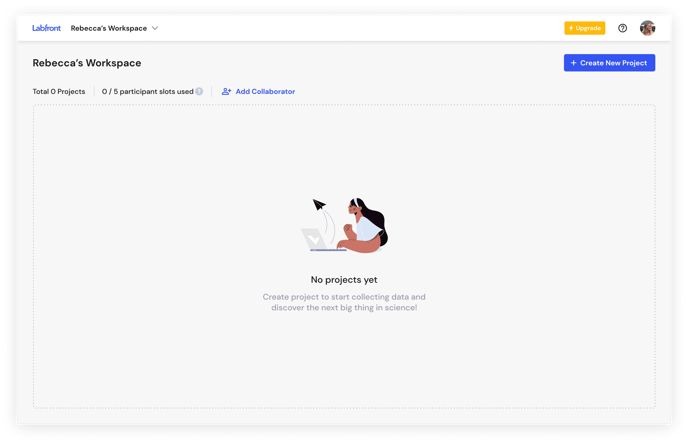 2. Create a project
Next, you're going to build a project from scratch. To create a new project, select + Create New Project button.

Give your project a name. This name is for internal purposes and won't be the name displayed to participants.
Now you're in the App Builder, where you'll build your customized Labfront app for participants.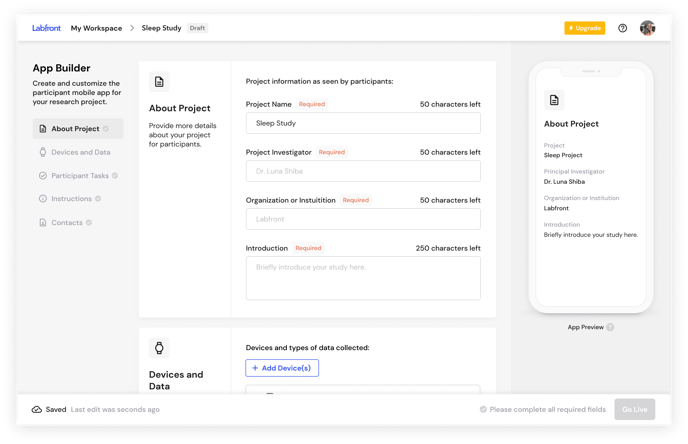 3. Build Your App
Now you can start building the app. The details you enter here will be what participants see when they open your project using the Labfront Companion app. As you build out your project, you'll see a preview of what your customized Labfront app will look like to the participant.
Labfront has an Autosave feature, so your work is saved automatically.
Please follow the steps below to build your app:
3.1 Enter Project Details
This is where you'll write information about your project for your participants.
You will need to enter:
Brief yet informative Project Name
Principal Investigator of the project
Organization/ Institution affiliated with the study
Study Introduction

The goal of the Introduction is to explain what you're trying to accomplish with the research and what might be required from participants.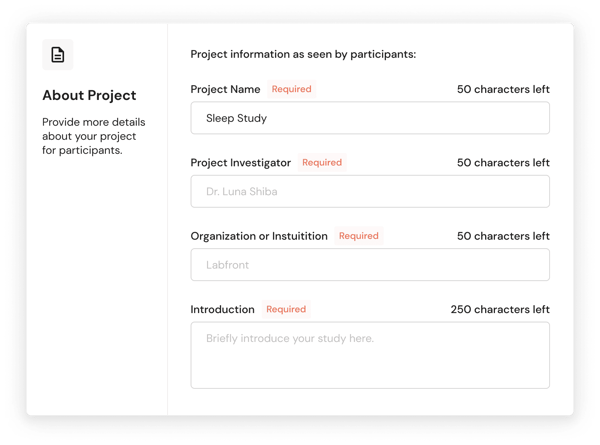 3.2 Choose Device
Add Device
The next step is to choose the research device you'll use for collecting the physiological data. Click + Add Device(s) to add a device to your project.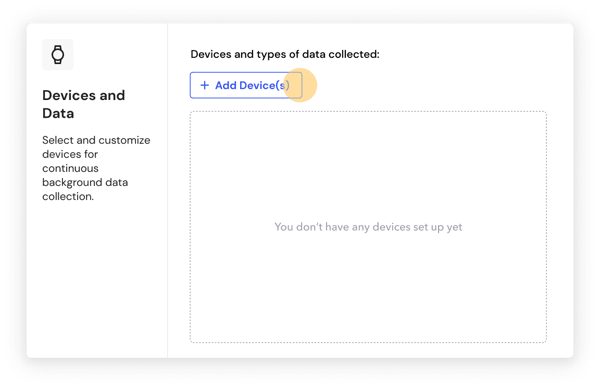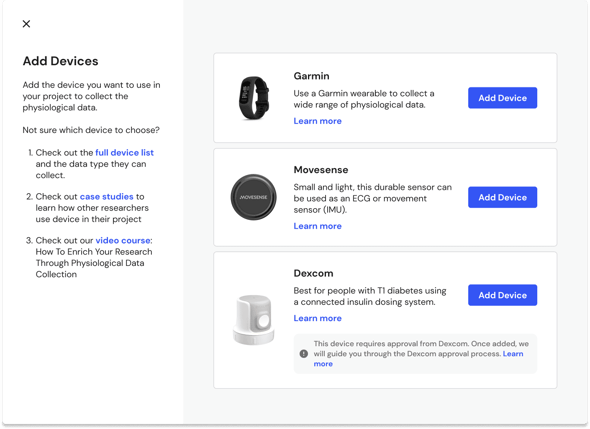 Add Garmin Device
When adding Garmin devices, you have the option of collecting physiological data from
either
or
both
Garmin Connect and Labfront Companion apps. We recommend reading our article on your
Garmin data collection options
to get an idea of which data source is right for your study and what the experience will be like for your participants.
You'll
choose the source
you want to collect data from in the project builder after adding a Garmin device. If you're collecting from Labfront Companion, you'll also choose the sampling rate.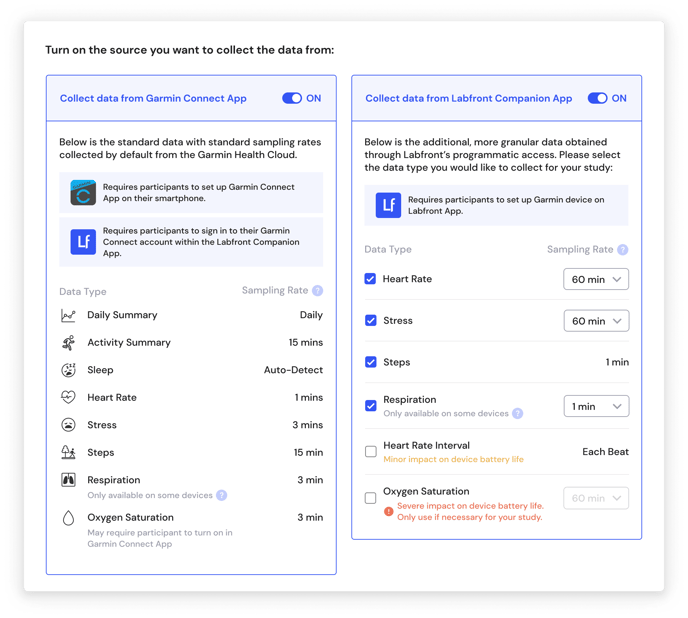 Add Movesense Device
If adding a Movesense device for ECG/IMU data, you'll next have to create a Movesense Task. This includes choosing the sensors you want to turn on and the corresponding sampling rate.
Creating a task is required as this is how participants activate the data recording on the app.
Add a Dexcom Device
If adding a Dexcom device, you'll first need to request Dexcom's approval. Learn more here.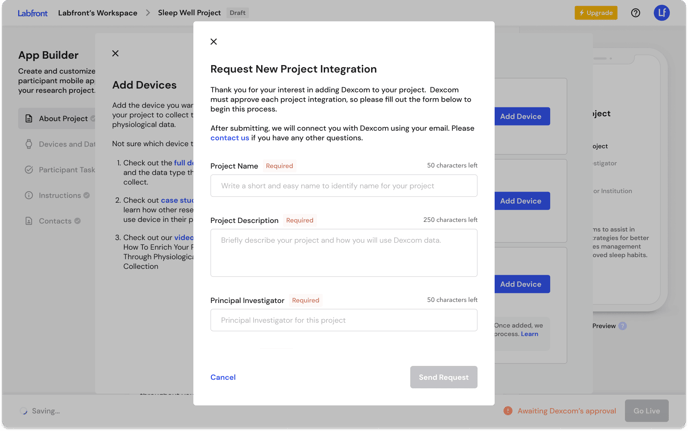 3.3 Set Up Participant Tasks
Here you can
create tasks for participants
to complete throughout your study. The tasks are displayed to participants within the Labfront Companion app and will normally correspond with the research protocol for your project. You can choose
Questionnaire,
To-Do
,
Timer,
and
Movesense Tasks
. All tasks are time-stamped and integrated with sensor data collected through our platform.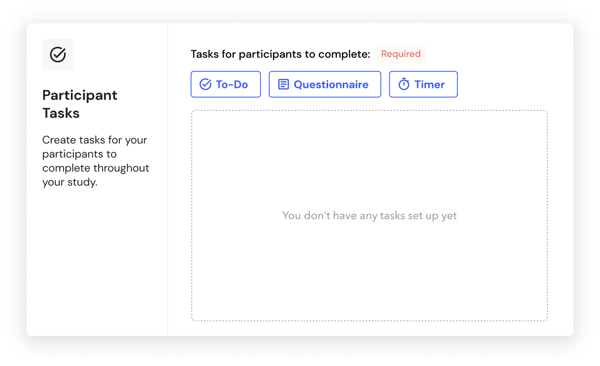 Note: If you've added a Movesense device, you will also see the option of creating a Movesense task here.
To-Do
To-Do tasks are simple tasks or activities that the researcher would like the participants to complete.
Questionnaire
A questionnaire task is useful if you need your participants to complete one or more questionnaires during the project. You will need to
create a questionnaire
for this task.
Timer
A timer task is useful if you want to specifically track the time of an activity. The participant completes the task using the app's built-in timer.
For each type of task, you will need to provide the following information:
Task Name - Choose an easy-to-understand name for this task
Schedule - Should this task be completed one time only or is it repeated?

Enter when the participant should complete the task (For example: Once every day, On the first day of the study, or No Specific Date)

Task Description - Provide a brief description of the task letting participants know what they need to do


Movesense
Movesense data will not be continuously captured in the background. You will need to create a Movesense Task in order for your participants to activate the data recording through the participant app.
3.4 Add Instructions and Contact Info
Finally, you'll need to add brief participant instructions and contact information for them to get in touch during the project.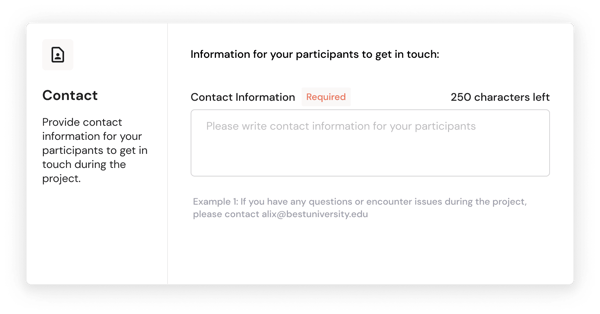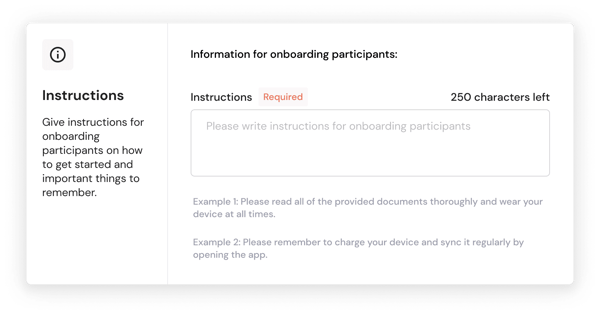 4. Finish Setup and Publish Your App
When you're happy with the content and all required fields are complete, click
Finish Setup
to publish your app! Once your app is published, you'll be able to
add participants
to the project and start collecting data.
Don't worry if you need to update anything, you can
edit your project
after it's live.
---
🔎 Looking for more information?
We recommend checking out these articles: