Learn how to connect participants to your project and monitor their adherence.
📖 Getting Started With Labfront Guide
Part 3: Managing Participants
In Part 3, we'll cover how to:
Add participants to your study
Manage adherence using the dashboard and notifications
Connecting participants to your project
Once your app is published, you'll be able to add participants to your project.
1. To add participants, go to Participants in your Workspace and select Add Participant.

2. Next you'll enter a
Participant ID
, using a unique and anonymous identifier.
3. A 6-character
Invite Code
will automatically be generated for each participant to access the app you created. Distribute this invite code to the participant via email, text message, etc.

You can keep track of how many participants you're able to add at the top of your dashboard. Free Accounts have a 5-participant limit. To invite more than 5 participants to a project you'll need a Basic or Advanced Account. Contact support@labfront.com and we'll be happy to help.
4. Ask participants to follow the steps below to join your project:
b) Enter their
Invite Code
on the app
c) Follow the app instructions to set up their device
The participant's experience of getting set up will vary according to your data source:
Participant Adherence
One of Labfront's most valuable features is the ability to remotely monitor your participants. At any time, you can check if participants have connected with your project, tasks have been completed, and physiological data is being collected.
Using the Dashboard to Monitor Adherence
The Adherence tab on the dashboard shows important information regarding participants' data collection. View which types of data your participants are successfully collecting, what tasks they are completing, and when they were last on the app. It's a great tool to track adherence and make timely interventions.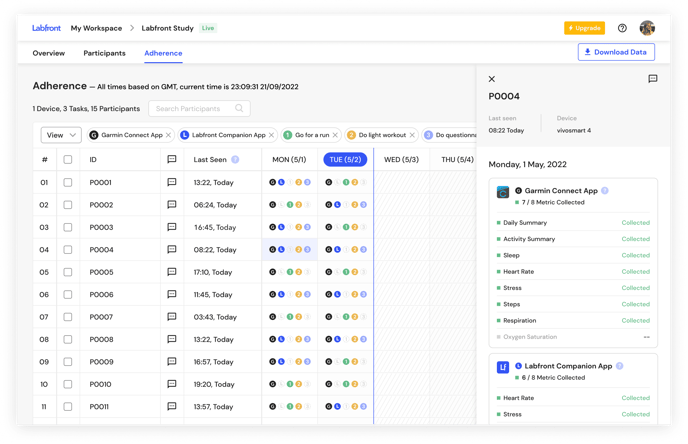 Sending Notifications for Adherence
Communicate directly with your participants through our
notifications feature
, found on the
Participants
tab. Remind participants to sync devices and complete tasks or let them know about any updated protocols.
1. Click the

next to the
Participant ID

2. Type out your message. The Title will appear on the participant's phone screen. The Content will appear in the Labfront app.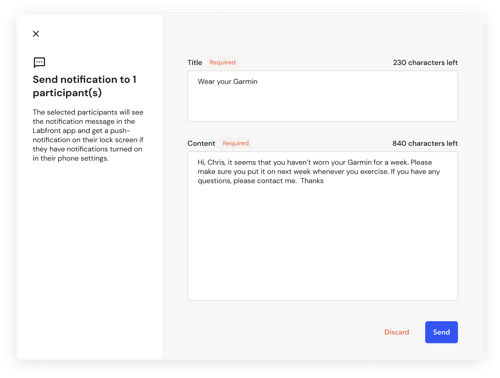 3. That's it. Happy messaging 💬!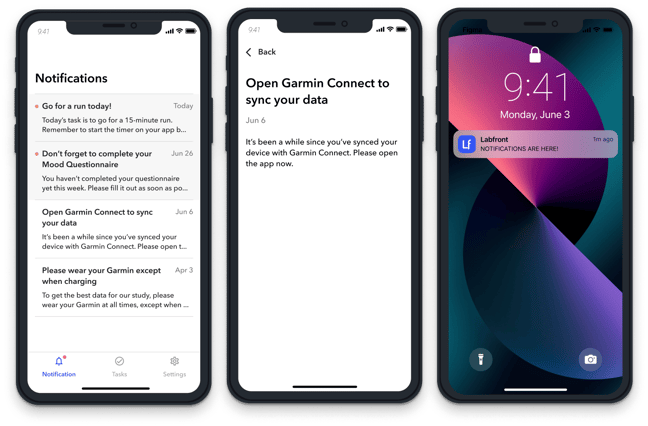 ---