What is Movesense and why should you consider using these sensors in your research? This article provides a thorough overview of everything Movesense.
1. About Movesense
Movesense is an open development environment for ECG, heart rate, and motion-sensing solutions. Developed and manufactured in Finland, its easy and innovative tools accelerate measuring and sensing applications across sports, well-being, healthcare, research, and more.
Read more about the
benefits of Movesense sensors for scientific research
.
1.1 Use Cases
Movesense sensors are highly versatile and adaptable for different health and sports-related applications.
⚕️Note
The Movesense Medical sensor is classified as a Class IIa medical device according to MDR 2017/745.
🏃 Motion Tracking
Movesense devices can be used to track and analyze human movement and motion patterns, using 9-axis IMU (accelerometer, gyroscope, magnetometer).
For example, in sports science, they can be used to analyze athletes' performance, such as measuring acceleration and rotation during sprinting or jumping. In rehabilitation medicine, they can be used to monitor and assess patients' movements during physical therapy or rehabilitation exercises. They can also be used in studies related to posture, gait analysis, fall detection, and other areas of health research.
💗 ECG
Movesense ECG data can be used for heart rate monitoring, arrhythmia detection, heart rate variability analysis, exercise performance analysis, and cardiac event monitoring.
View more Movesense use cases→
1.2 Published Studies
Movesense devices have been used in a variety of exciting studies, including research on ECG, heart rate and heart rate variability, atrial fibrillation, sleep monitoring, and movement-related topics such as neurology.
Some examples include studies on the effectiveness of chest strap ECGs to detect atrial fibrillation, heart rate variability during exercise, and automatic tracking of infant movements with wearable sensors.
You can view some of their highlighted publications at movesense.com/publications.
Find more Movesense-related articles via
Google Scholar
.
1.3 Supported Movesense Devices and How to Buy Them
Labfront is compatible with the following Movesense devices:
Device Discount 💸
Our partnership with Movesense allows us to offer a discount to Labfront customers. If you're interested in purchasing Movesense devices, please reach out to us at hello@labfront.com
2. Using Movesense with Labfront
Labfront will help you to get the most out of your Movesense device in research projects. With our user-friendly, code-free platform, you can eliminate the need for developers to build your app, saving time and money — no APIs or SDKs necessary.
With Movesense sensors, Labfront's platform also enables you to adjust your data resolution, making it an even more potent research tool.
2.1. For Researchers

To start capturing Movesense data, simply add Movesense to your project and choose the data type you want to collect by creating a Movesense Task for participants to record data.
Learn more about continuous background vs manually activated data collection→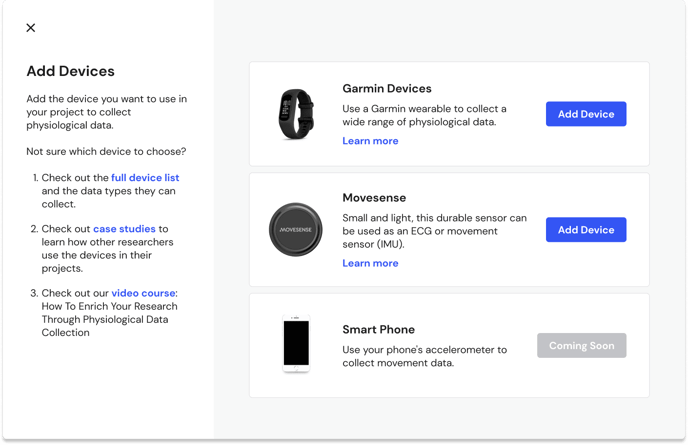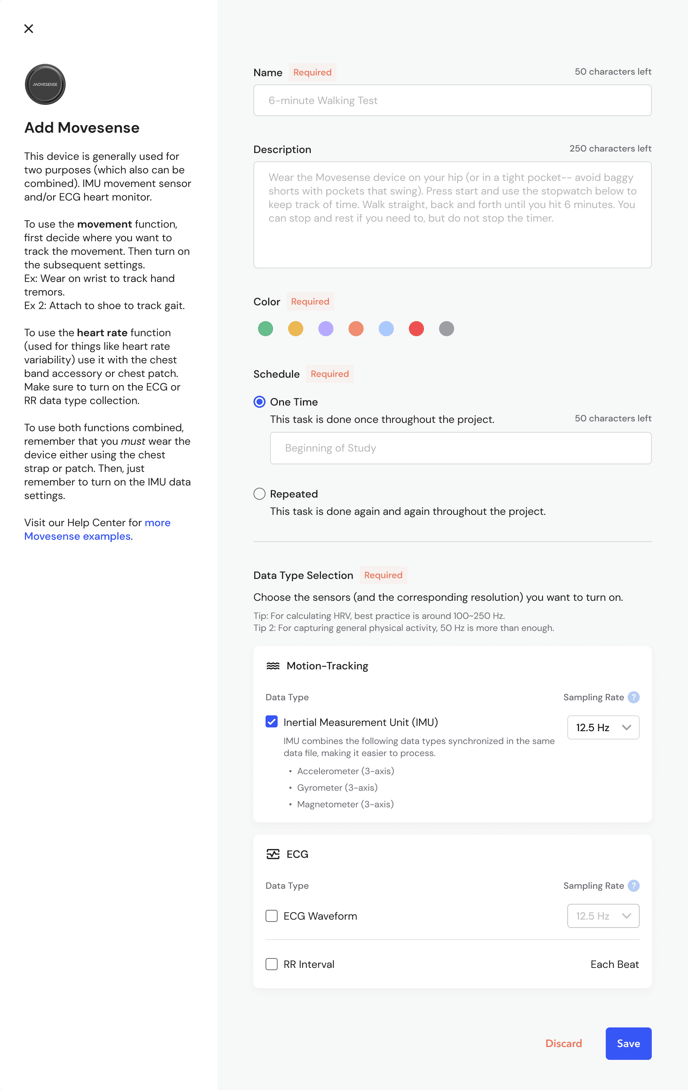 2.2 For Participants
Participants will set up the device in a few easy steps once they join the project.
Then they will need to wear the device according to the researcher's instructions and manually start recording data through a task on the participant app in order to capture their data.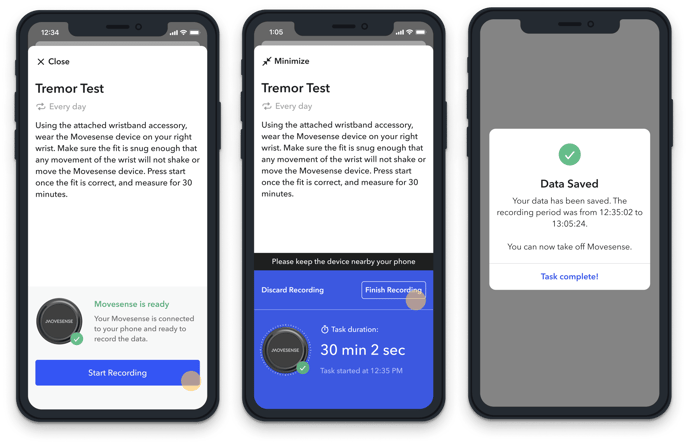 3. Movesense Data
3.1. Data Types
Movesense's cutting-edge wearable sensors are capable of capturing ECG, heart rate, heart rate variability, and high-resolution movement data (accelerometer, magnetometer, gyroscope).
Learn more about Movesense data types→
3.2 Data Format: What Does the Data Look Like?
Movesense data is provided in CSV files organized into folders by data type.

Within a data type's CSV file, each row represents one data recording.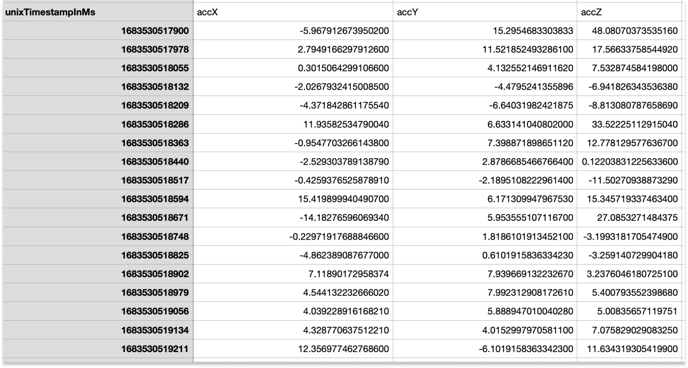 Check out our article on how Movesense files are organized to learn more→
Device Discount 💸
Our partnership with Movesense allows us to offer a discount to Labfront customers. If you're interested in using Movesense devices in your study, please reach out to us at hello@labfront.com.
4. FAQs
Can I use the Movesense sensors for continuous background data capture?
Due to a large amount of high-resolution data, your participants will need to manually activate the data recording through a Movesense Task on the participant app. The data cannot be captured continuously in the background.
How many Movesense sensors can each participant use to collect data at one time?
Currently, each participant can use one Movesense sensor to collect data with Labfront.
Is Labfront compatible with non-Movesense devices?
Yes, Labfront is also compatible with Garmin devices for continuous data capture, the latest list of compatible devices is available on our website. We do update this list from time to time, so if you are interested in a specific device that is not listed on the website, then please reach out to hello@labfront.com.
---
🔎 Looking for more Movesense info?