This document walks participants through the steps necessary to onboard with the Garmin Connect app.
This guide is for those collecting data from only the Garmin Connect app.

If you're collecting data from the Garmin Connect app in addition to the Labfront Companion app, please follow the onboarding steps outlined here.
Although data won't be collected with the Labfront app, it will still need to be downloaded to connect to your project. You won't have to open it again after the initial setup.
Step 1: Download the Garmin Connect app
Download the Garmin Connect app

on Android or iOS .
Open the app and click Create Account. You'll need to register your Garmin account to an active email address, as well as provide a unique Garmin account password.
iOS Users
You'll have to re-enter your Garmin account password once when setting up your Labfront app in a few minutes, so please keep your Garmin password handy.
Step 2: Pair your Garmin Smartwatch with Garmin Connect
Follow the step-by-step instructions clearly laid out in the Garmin Connect app to pair your device.
Step 3: Download the Labfront Companion App
Download the Labfront Companion app

Enter the 6-character invite code given to you by the researcher, then click Get Started.
You'll land on a confirmation screen ensuring you have entered into the correct study, as well as a consent form.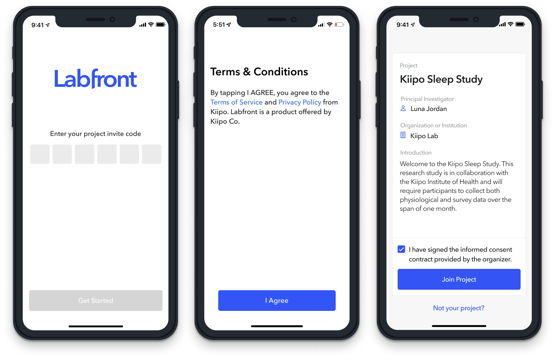 Step 4: Link your Garmin App with your Labfront App
Once you've signed your consent form, you will be brought to the official project home screen.
In order for the Labfront app to pull all the data from the smartwatch, it must be connected to the Garmin App.
Click the Set Up Your Device button and follow the steps provided on the Labfront app.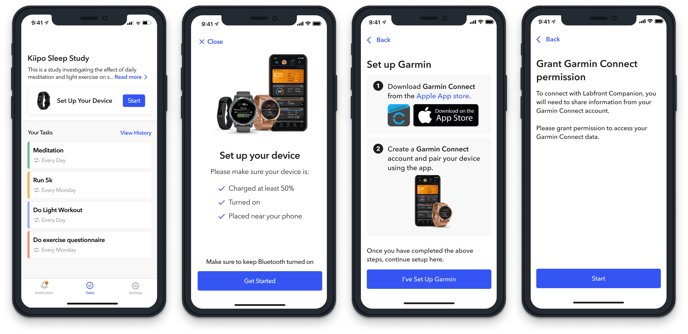 Don't forget, you must give the Garmin App permission to connect to the Labfront app
iOS users, you'll need to re-enter your Garmin Connect account email and password.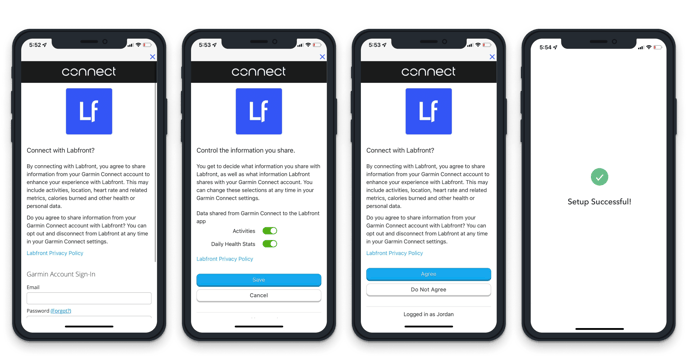 Android users, all you need to do is Agree.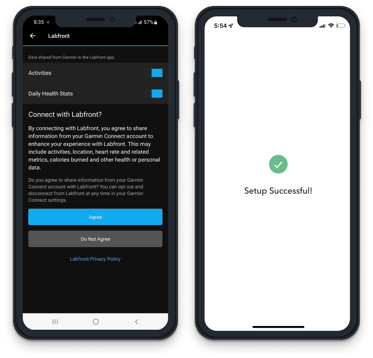 At this point, you should see

on the Tasks page.
Now you're all set 🎉!
Remember to open Garmin Connect regularly to sync data (according to your researcher's study protocol). You don't need to open Labfront Companion after setup.