This document walks participants through the steps necessary to onboard with the Labfront Companion App.
This guide is for those collecting data from only the Labfront Companion app.
If you're collecting data from the Garmin Connect app in addition to the Labfront Companion app, please follow the onboarding steps outlined here.
Step 1: Download the Labfront Companion App
Download the Labfront Companion App, available on Android and iOS.
Step 2: Enter your Invite Code and Join Project
You should have already received a 6-character invite code from the researcher. Enter it and click Get Started.
You will be given a confirmation screen ensuring you're in the correct study, as well as a consent form. Click I Agree > Join Project.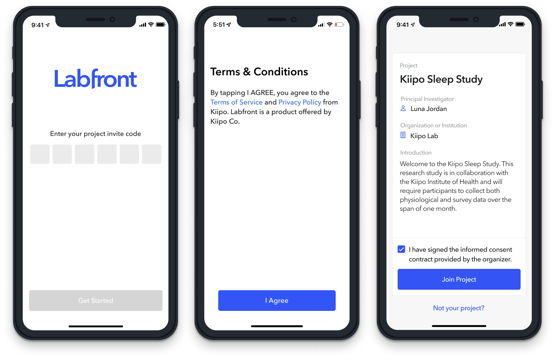 Step 3: Set up your Device
For pairing success, make sure your smartwatch:
Has battery life
Is physically near your phone
Has Bluetooth pairing mode on (your phone must also have Bluetooth enabled)

If you're using a Venu SQ, you must follow the steps below on your watch:

Press and hold the bottom right button to access the menu
Select > Phone > Pair Phone
From the home project screen, click the Set Up Your Device button.
Click Start > Select the device to pair > Link Device.
A 6-digit code will appear on your watch face. Enter it in the Labfront pop-up window.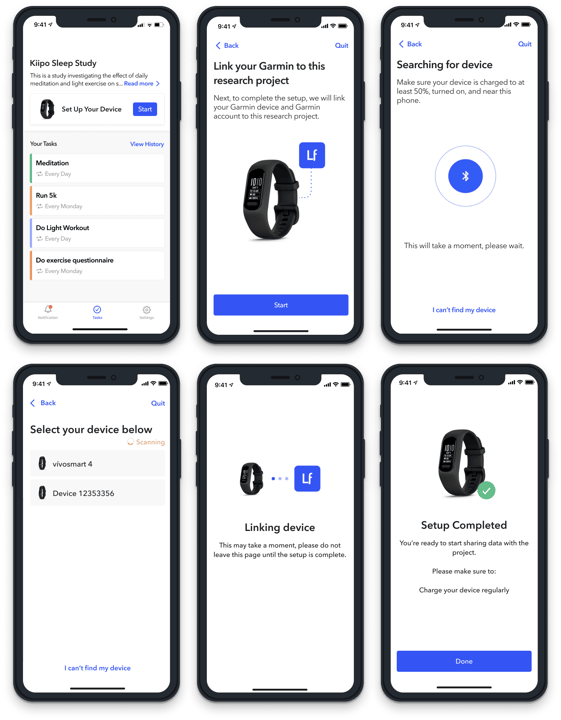 Congratulations, you're all set 🎉!
Now that the setup process is complete, be sure to open the Labfront Companion app at least once a day to sync (depending on the instructions from your researcher).