We'll show you how to connect a device to a project using the Labfront app, including troubleshooting steps and links to onboarding guides for more information.
How to Set Up Your Device
Open the Labfront Companion app to enter the project you're connected to. If you haven't yet downloaded the app and joined a study, follow the steps outlined here.
You will see Set Up Your Device at the top of your screen. Click Start > Get Started
The paired device should show up during the scan. Select your device and click Link Device
Pair the device.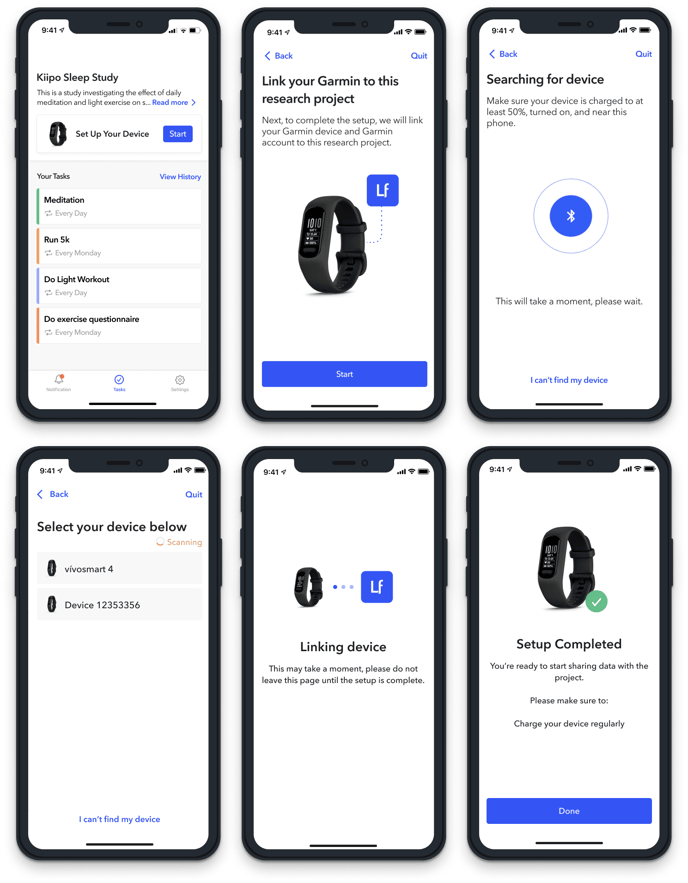 You can also pair a device through the Labfront Companion Settings.
Select Settings
Devices > Garmin > Pair Device
⚠️ Warning
If you are within 30 feet of another Garmin user, you will most likely see their device. To avoid this you can:
Distance yourself (temporarily) from them so as not to confuse your poor app
Turn off the Bluetooth of nearby Garmin devices and only turn on Bluetooth for the device you want to pair
Congratulations, you're all set 🎉!
Now that the setup process is complete, participants should open the Labfront Companion app
daily
to sync (depending on the instructions from the researcher). Learn more about
syncing data in this article
.
Pairing Unsuccessful? Follow the steps highlighted in the app, and if all else fails, reach out to
support@labfront.com.
🔍 Looking for onboarding resources for participants?
Check out our Participant Onboarding Guides below:
---
FAQs
How often do participants need to open the Labfront Companion app?
We recommend opening the Labfront Companion app at least once per day to sync participant data. Researchers can view the last time participants were seen on the Adherence page.
When I try to set up my device, multiple Garmin devices are showing up and I don't know which one is mine. What should I do?
If moving at least 30 feet away from the other devices does not work, we recommend temporarily turning off the other devices' Bluetooth and only turning on Bluetooth for the Garmin device you want to pair.