One of Labfront's most valuable features is the ability to monitor your participants throughout the project to ensure tasks are being performed and data is being collected.
This article will cover how to manage participant adherence using Labfront, including:
Adherence Tab
At any time during your project, you can sign in to Labfront and select the Adherence tab to check if participants have connected with your project, tasks are being completed and physiological data is being collected.

Navigating the Adherence Page
The Adherence page shows important information regarding the participants' data collection. It's a great way to monitor adherence and make timely interventions.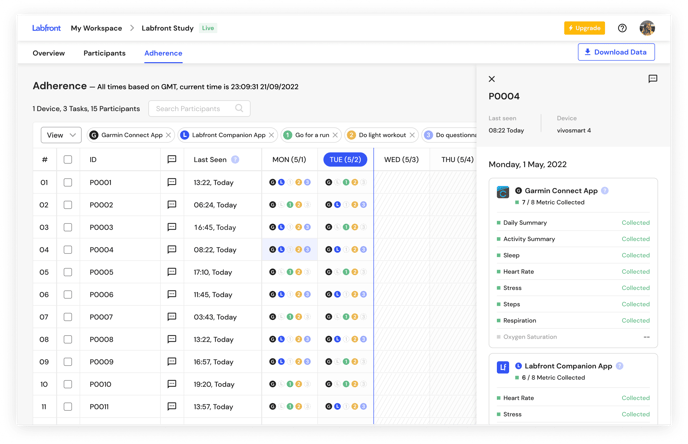 Note
All times on the Adherence dashboard are based on UTC (otherwise known as GMT).
Last Seen denotes the most recent time that the participant's Labfront Companion app was connected to the internet. If a participant has not yet used their invite code to connect to your study, their Last Seen status will display Not Yet Joined.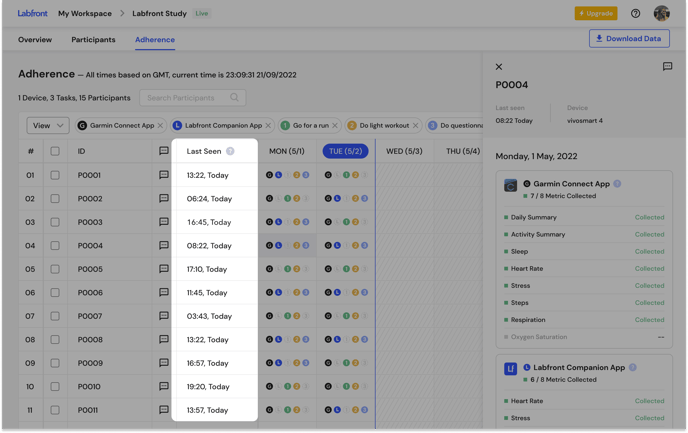 Viewing Participant Data
The default view when you land on the Adherence page is All Tasks, but you can filter your view by tasks and device data types.
View by Tasks
Select the View dropdown menu

and select which tasks you would like to see have been completed or not. You can also check if Garmin Connect and/or Labfront Companion data has been collected, ensuring participants have paired their devices correctly.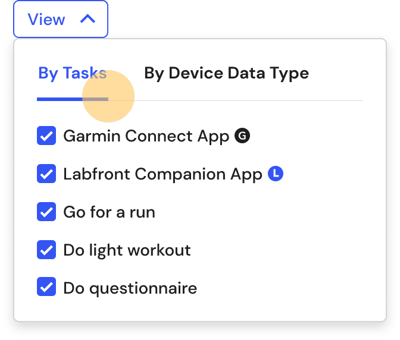 View by Device Data Type
With this view, you can see exactly which metrics have been collected through the Labfront Companion app.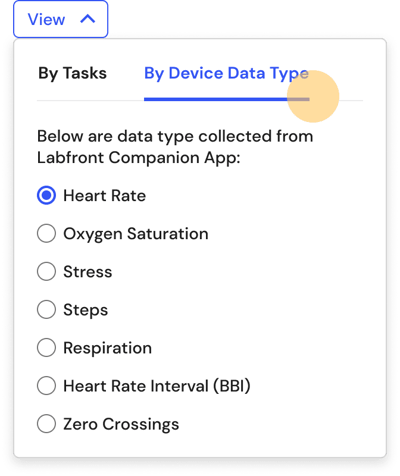 For BBI/Heart Rate Interval, you'll be able to view the total amount of time BBI data was collected for that day. A lower-than-average total could signal the participant is not wearing their smartwatch as often as they should be.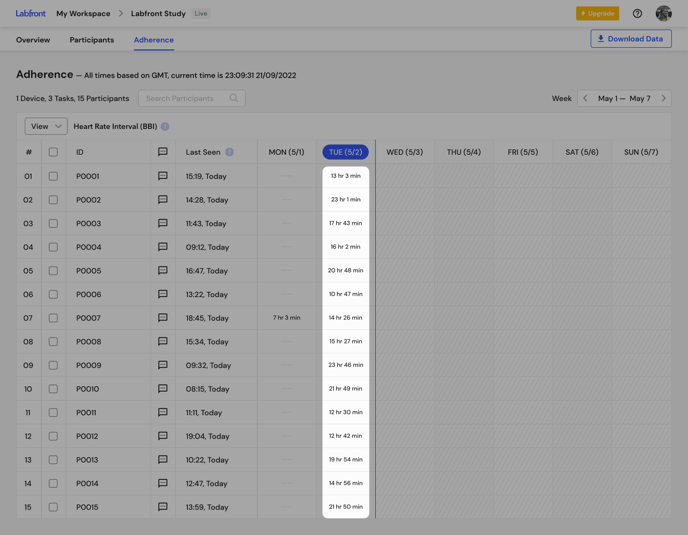 Daily Data Collected By Each Participant
Click on any participant's daily data to get a more in-depth look into their data collection for the day.
In this view, you can see the metrics collected from Garmin Connect and Labfront Companion for the day as well as which tasks have been completed, how many times they were completed, and at what time.
For timer tasks, you can even view the task duration as well.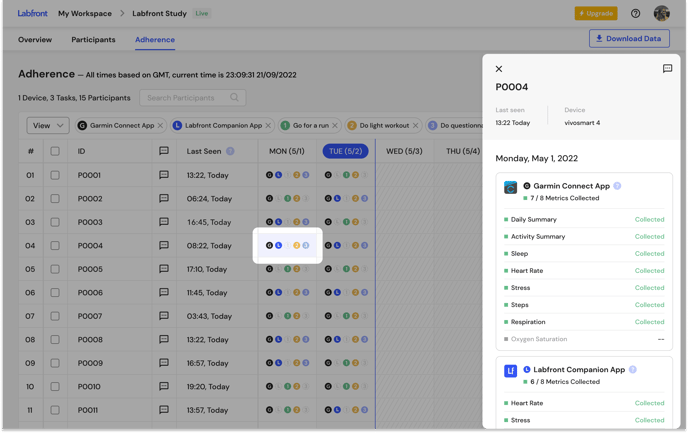 💡 Tip
If you notice a participant has not been completing tasks or collecting the right data, you can
send push notifications
to remind them and avoid further data loss.
Sending Push Notifications
If when viewing the adherence page, you notice some participants have not been regularly completing tasks or syncing their data, you can send a push notification to remind them.
Learn more about sending push notifications in this article.